Technical data
6 kW warm-air heater with integrated hot water boiler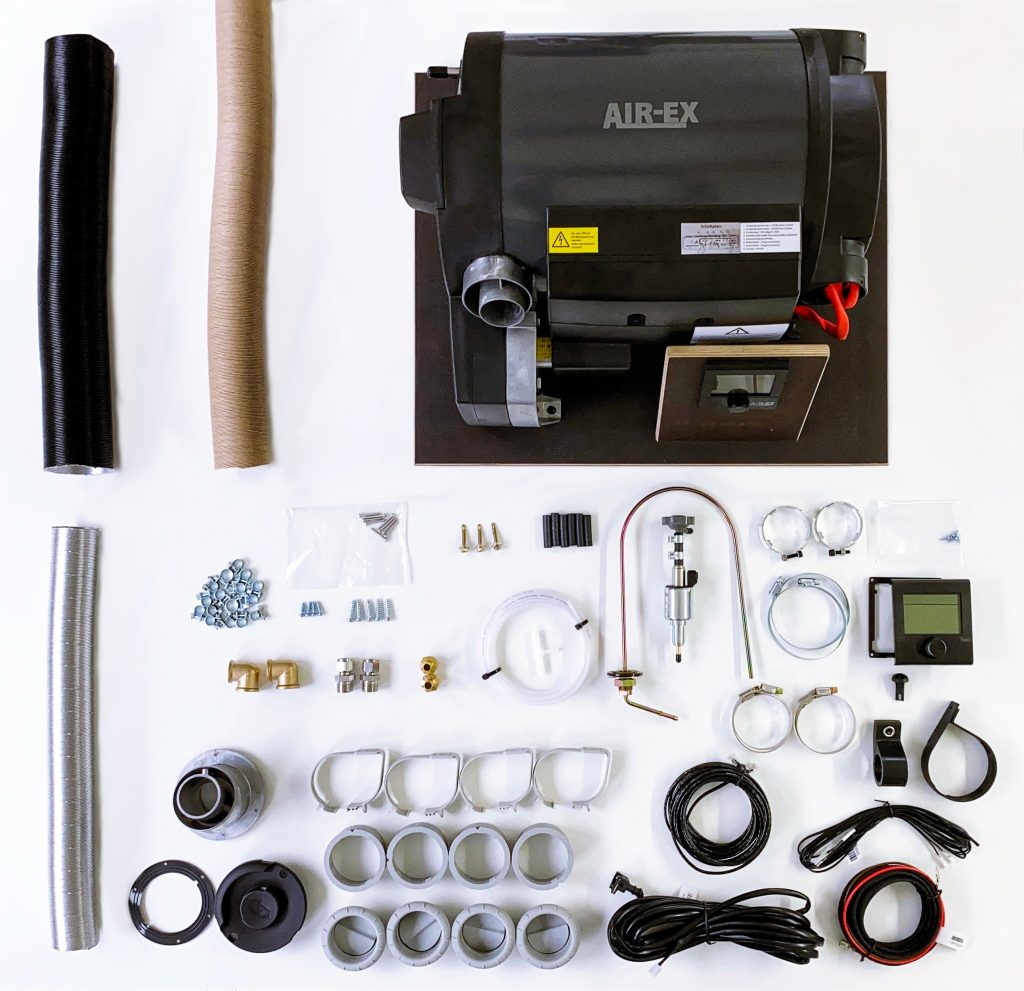 In hot water only mode with a filled boiler (selected water temperature 40° or 60° C), water is heated using the lowest diesel combustion setting. When the selected water temperature is reached, the burner switches off automatically. In electric mode, the user can select one of two power settings, 900 watts or 1800 watts, via the control panel. Mixed operation is not possible in that case.
The 6 kW AIR-EX is a combined diesel hot air heater with 10 liter hot water boiler. Due to the fan-assisted burner it can be operated while driving.
In the heating and hot water mode, the room and water are heated at the same time. When no hot air is desired, as in summer, just water is heated in the hot water only mode.
There are 3 modes of operation:
In diesel mode, the unit automatically selects the necessary power setting based on the temperature data set in the control panel. If the boiler is filled, the water is automatically heated as well, so that stand-alone operation is possible.
In electric mode, the water in the boiler is heated by the 230 V heating rod. There is no air heating.
In diesel/electric mixed operation, the electric mode is preferred when the heat output is low. When heating up, the electric mode is used first and the diesel burner is switched on when the heating requirement is higher.
Power supply: DC 12 V
Operating voltage: DC 10.5 – 16 V
Short term max. power: 8 – 10 A (5.6 A)
Average power consumption: 1.8 – 4 A (1.3 A)
Fuel type: diesel EN 590
Rated heat output in diesel mode: 2000 / 4000 / 6000 watt
Diesel consumption: 0.24 / 0.51 l/h
(160 / 320 / 480 g/h = 0.19 / 0.38 / 0.57 l/h)
Quiescent current: 1 mA
Air flow rate: max. 287 m³/h
Water capacity of boiler: 10 liters
Pump pressure: max. 2.8 bar
System pressure: max. 4.5 bar
Power supply during electric operation: 220 V
Heating capacity of electric operation: 900 / 1800 W
Power consumption during electric operation: 3.9 / 7.8 A
Operating temperature: -25 °C to 80 °C (-13 F to 176 F)
Operating altitude: up to 4,000 m (13,000 ft) above sea level
Control panel: digital LCD display (included)
Dimensions: 510 x 450 x 300 mm
Weight without water: 15.6 kg
Certificates: CE / E13
Digital LCD display (monochrome) with illuminated background
Dimensions: 92 x 103 x 40 mm
Operating temperature: -25 °C to +60 °C (-13 F to 140 F)
Operating voltage: 8 V – 16.5 V
Power consumption max.: 65 mA with full backlight,
6.5 mA – 10 mA in standby mode
Quiescent current: 3 mA
Weight: 100 g